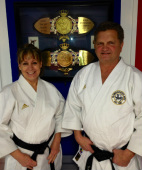 Vicki & Jimmy Blann
Dear Mid-South Community:
Since 1980, Blann's Martial Arts nationally renowned karate program has offered excellent traditional karate training to all those in the greater Mid-South community.
Traditional karate is a dynamic mind-body discipline that provides numerous tangible goals along with a set of principles to its practitioners. As thousands of BMA students have learned, karate is an intense and effective method of self-defense, a total physical fitness program, a demanding and exact traditional art, a philosophy of life, and an exciting competitive sport.
The cost for our program is reasonable and can fit into anyone's budget. At BMA, you are taught the Art of Traditional Shotokan Karate by our CERTIFIED and FRIENDLY Shotokan INSTRUCTORS.
I am the founder and Head Instructor who still teaches over 98% of all of our classes at the home karate dojo (gym) located at 1880 Forrest Drive, Southaven, MS 38671. Day and evening classes are held Monday through Thursday year round. Mid-South community members may register in person or by calling (662) 393-8311.
I invite you to come participate with us and experience what karate can do for your body as well as your mind.
Follow us on facebook.
http://wwww.facebook.com/blannkarate
Sincerely,
​Jimmy Blann, 8th Degree Black Belt
---